FRUIT PACK ASSORTED THC GUMMIES
Fruit Pack Gummies are a new take on classic, familiar candies with a twist.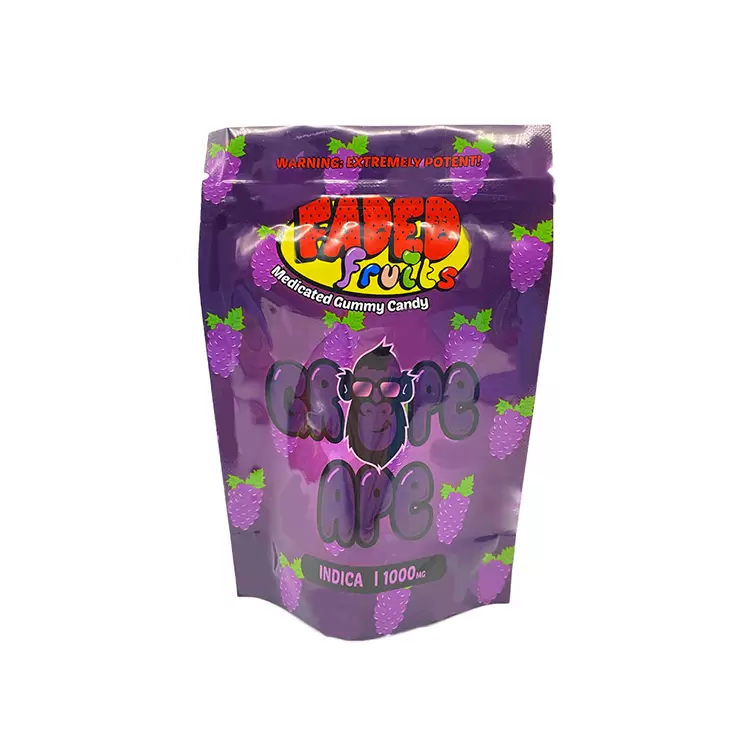 NOW IS A CHANCE
COMING SOON!!!!!…
FADED
GUMMIES
1000MG PACKS
ORDER THE FADED BOX AND GET A 20%DISCOUNT PAYING VIA BITCOINS USE COUPON (BTCSUMMER2022)
FADED SEASON
FADED FRUIT 2023 DISCOUNT NOW ACTIVE ON ALL PRODUCTS.....
NEW PRICES WILL LAST ONLY FOR A WEEK
JOIN FADED FRUIT TELEGRAM CHANNEL FOR MORE!
FADED FRUITS GUMMIES
Fruit Pack Gummies | 240mg THC | Faded
All your favourite classic fruit flavours one pack of assorted THC gummies! Give into your candy craving with this bag, packed with colour and deliciousness. Each Fruit Pack contains 8 gummies and is sure to enhance every moment. An added bonus - Faded Edibles Fruit Pack is Lab tested and gluten free!.
Uses: Insomnia | Inflammation | Pain | Fun | Anxiety | Stress | Lack of Appetite | Fatigue
Effects: Happy | Relaxed | Calm | Sleepy | Cerebral | Euphoric | Giggly | Hungry
Total servings: 240 mg THC per package
Serving sizes: 8 x 30mg per Gummies.
FADED FRUITS GUMMIES PACK
$25
Faded Cannabis Co. Fruit Pack Gummies are a new take on classic, familiar candies with a twist. The Fruit Pack contains 8 assorted fruit flavoured THC infused gummies that pack quite the punch.
CONTENTS 8 x Assorted Fruit Gummies
DOSAGE Each gummy contains 30mg of THC. Begin with one candy and allow half an hour for digestion before eating more.
EFFECTS Cerebral, Euphoric, Giggly, Happy, Hungry, Relaxed & Sleepy
MEDICAL EFFECTS Depression, Fatigue, Inflammation, Insomnia, Lack of Appetite, Pain & Stress
THC CONTENT 240mg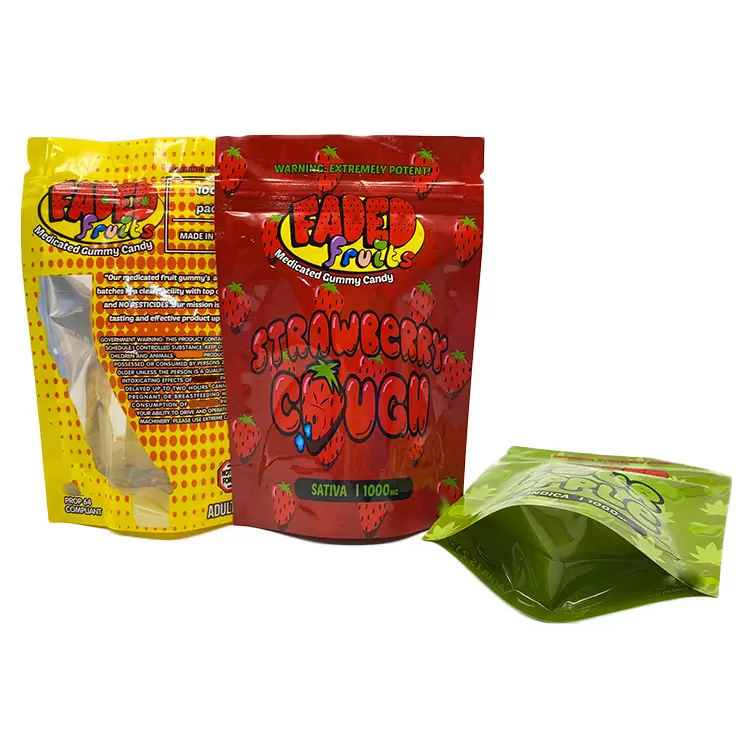 Faded Fruits Cannabis-Infused Gummies (500mg)
$30
Product Details
Faded Fruits are extremely potent cannabis-infused gummies that come in assorted flavors. 500mg THC. 10 gummies per pack (1 gummy = 50mg). Made in California. Gluten-Free.
Type
Strawberry Cough (500mg) Sativa
Grapefruit Haze (500mg) Sativa
Pear Herer (500mg) Hybrid
Strawberry N' Cream (500mg) Hybrid
Blueberry Headband (500mg) Hybrid
Watermelon Zkittlez (500mg) Indica
Rainbow Gelato (500mg) Indica.
TOP SHELF COLLECTION
RECENTLY
THE POWERFUL GUMMIES IN THE MARKET
Specifications
INGREDIENTS:
Corn Syrup (From Corn), Sugar (From Beets), Coconut Oil, Water, Gelatin, Citric Acid, Natural and Artificial Flavors, Pectin (Derived from Fruits), Vegetable Oil, FD&C Yellow #5, FD&C Blue #1.
Track Your Order
Shipping
Terms of Service
Become an Affiliate
Online Dispensary Canada
Buy Weed Online
Become an Influencer
Hours of Operation: 9am-5pm PST Monday to Sunday.

[email protected]
 Facebook
 Twitter
 Instagram
Telegram
WE OFFER THE BEST OF WHAT YOU SEE!!
FROM BUYERS
Reviews
i love that thy taste just like my childhood favorite candies. Effective, if a little weak
I order a pack of these gummies almost every time , but this pack is my favorite …..its very nice
Description
Additional information
Reviews (0)
Description
Faded Fruits Cherry Og | HYBRID 500mg
Buy Faded Fruits Cherry  Og for sale at FADEDFRUITSGUMMIES 100% affordable prices, faded fruits gummies now available in stock . Faded Edibles by Faded Fruits. debuts their take on classic, familiar candies with a new twist. These delicious Faded Cannabis Co. Fruit Pack Assorted Gummies are infused with 240mg of THC for a perfectly dosed treat! 8 pieces of assorted candies are coated in a tasty sour sugar to add an extra "zing" to create one of the most enjoyable cannabis infused edibles on the market! #StayFaded
Faded Fruits Edibles Gummies
Cannabis infused edibles are as prevalent as ever, becoming one of the most popular methods for consuming THC. Edibles are regular, everyday food products that are infused with cannabis. Cannabis infused edibles are extremely versatile and can come in the form of baked goods, beverages, candies and even chocolates. Basically any food can be combined with cannabinoids (CBD or THC) to offer a fun and tasty alternative way to medicate. Edibles tend to be very potent, and the effects are geared towards the body, making them great for those looking pain, nausea, and lack of appetite.
Edibles vs Smoking
There are many differences between smoking and eating, or ingesting cannabinoids. The appeal of cannabis infused edibles may lie behind the unlimited, tastier options compared to traditional smoking. It is arguable that edibles are a far healthier alternative to smoking cannabis, due to the negative health effects associated with smoke inhalation. Edibles are absorbed through the digestive system and may take anywhere between 30 minutes to 2 hours to fully kick in, compared to the almost instantaneous absorption of cannabinoids through the bloodstream when smoking. The effects associated with ingesting cannabis are drastically different and longer lasting compared to the effects of smoking cannabis. Edibles are associated with a body-focused, sedating couch-lock type of high.
contact support email for wholesale deals on our products .
Additional information
| | |
| --- | --- |
| Flavors | Cherry Og, Raspberry Sherbet, Mango Kush, Cotton Candy Kush, Grapefruits Haze, Grape Ape |
FKEm Gummies: A Delicious and Convenient Way to Enjoy the Benefits of CBD
CBD, or cannabidiol, is a non-psychoactive compound found in hemp and cannabis plants that has been found to have a wide range of potential therapeutic benefits. One of the most popular ways to consume CBD is through gummies, as they are easy to take, convenient, and come in a variety of delicious flavors.
FKEm Fruity Punch Gummies are a perfect example of a high-quality CBD gummy. Made with all-natural ingredients and infused with a potent dose of CBD, these gummies are a tasty and effective way to enjoy the benefits of CBD.
How to order Fkem Gummies
Order online FKEM Fruity Punch 200MG Gummies. Fkem Gummies delivers a curated selection of concentrates, flowers, edibles, and brands for Adult-Use in Los Angeles. You can order online FKEM Fruity Punch Gummies and have them delivered to your door  Simply order online, You will receive a tracking link with live delivery updates and ETAs.
Who are FKEM Gummies?
Looking for a sweet snack that you can munch on for potent effects? Look no further! FKEM works with premium cannabis distillate and real fruit flavors to make sure you get the best quality edibles with the best tastes! Each batch of cannabis candy is handmade in small batches to ensure quality and potency. FKEM gummies are available in various flavors like Fruit Punch, Blueberry Blizzard, Lava Flow Mango, and OMG (orange, mango, guava). Choose from 1500mg THC or 200mg THC options. With so many delicious choices, the only question left is: Which one will you have?
FKEM Fruity Punch Gummies are delicious chewy gummies made with premium distillate gummies. Reach for these pineapple gummies when you want an uplifting buzz and a jolt of positive energy! Each gummy contains 200mg or 150mg of THC, with a total of 200mg or 150mg THC in the entire package. Each pouch contains 10 gummies.
torch gummies
 

Torch Haymaker Blend Gummies | 3500mg

The torch gummies are infused with very potent blend of cannabinoids containing THC-P, delta-9 THC, & THC-X. These gummies are infused NOT sprayed. Each Torch Haymaker Blend contains 20 gummies per jar, and each gummy consists of 175mg per gummy. Torch offers the Haymaker Blend Gummies in 12 different flavors currently. We highly suggest starting with a 1/2-3/4 of a gummy if you are just starting out as these gummies are next level potent! After eating a gummy please allow for 1-1.5 hours to feel effects and then adjust for tolerance. These gummies are 2018 farm bill compliant containing less than .3% delta-9 thc.